Gaited Horses, Naturally! Part 1

consists of 2 DVDs with a 50 page book created by David Lichman, winner of a World Grand Championship and one of only three Five Star Premier instructors of Parelli Natural HorseManShip in the world.
David has been involved with gaited horses for over twenty years, and has traveled all over the world helping owners of Tennessee Walking Horses, Missouri Foxtrotters, Icelandic Horses, Rocky Mountain Horses, Peruvian Pasos and Paso Finos to gain not only a better gait, but a better relationship with their horses.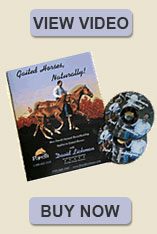 The first DVD, Knowledge, puts the viewer in the audience of a gaited horse lecture by David. In his entertaining teaching style, David presents history, biomechanics, diagrams and clear definitions to help answer the confusing questions about gaited horses:

What makes them gait?
How do you recognize a gait?
How do you differentiate one gait from another?
How do you influence gaits in a natural way, using psychology and understanding rather than force, fear and intimidation?

Also included are examples from David's gaited horse clinics where students achieve immediate success using David's techniques, and you'll see examples of the various gaits described in the lecture.

Running time 1:40

In the second DVD, Techniques, David demonstrates methods to help both trotty and pacey horses find a smooth gait to ride on a loose rein. There is also a section on true collection and how to be in harmony with the horse when using it to influence gait. The 50-page illustrated book contains Questions and Answers, Tips on Gaiting and Cantering, Charts, Diagrams, Lists, Resources and more… The training is all done without the use of any bits, special shoes, chains, action devices, draw reins or tie-downs. Emphasis is on developing the emotional and mental strength of the horse and rider as a team. The foundation for these techniques is the Parelli Savvy System – with David's special expertise helping to explain how this system applies to the needs of gaited horse owners: horses that trot or pace, horses that won't canter, and horses that change gait every few strides. The beauty of this system is that both the novice and the pro can use it to teach gaited horses to respond to a soft rein, and maintain a consistent gait that is smooth to ride.

Running time 1:05


NEW!
Gaited Horses Naturally! Part 2, Cantering


Have you ever, as Pat Parelli says, "tipped your horse up into a lope" only to find all manner of bone-jarring, cross-firing, four-beating, pace-galloping footfall confusion? In this follow on to GAITED HORSES, NATURALLY ! David delves more deeply into the problems associated with cantering.

Here you will find detailed instruction on helping a horse to find a clean, consistent, three-beat canter even though it doesn't come easily to him. Included are detailed, slow motion examples of all the variations, so you can once and for all learn to identify what those legs are doing.

The principles of the Parelli Program - On Line, Liberty, Freestyle and Finesse - provide the basis for the techniques that David uses, and there are plenty of examples of horses who have successfully learned to canter this way.

Running time 1:45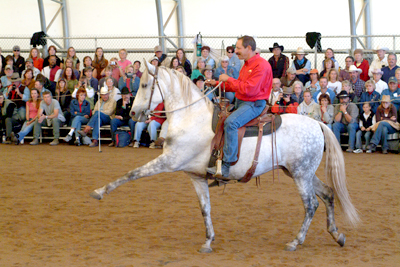 "When I bought my first gaited horse over twenty years ago, I was given a set of four-pound shoes and some logging chains – which the professional trainer told me was the only way to teach her to gait. After meeting Pat Parelli, and learning how to interact with horses in a more natural way – I developed these techniques in order to give the gaited horse a better deal, and to give the gaited horse owner a better relationship and far better results." – D.L.


www.davidlichman.com
David@DavidLichman.com


top